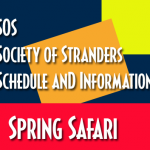 IT BE TIME for another party in North Myrtle Beach. The Adults are coming to NMB for Spring Break 2014. That's right! Another Spring Safari hosted by SOS. Click here to see the sos events and club flyers. A lot of my friends coming to town, to hang out at Fat Harold's, The Spanish Galleon, Pirate's Cove, Ducks, The OD Arcade. I have a bunch of friends that will be at OD Pavilion and Swillie's Hideaway too! Have fun out there and be safe.

It was a joke people
In case you fell for the joke on Tuesday… The Bands will play on this week and next week and beyond. Albert is still playing bass for Jim Quick & Coastline. Doug is still playing Bass for the Fantastic Shakers. Hugh is still playing bass for the Embers. Guy is still playing bass for the Castaways. LJ is still playing bass for Hip Pocket. For those that did not pick up on Aprils 1st and had a bad day, I offer some apology. It was funny stuff watching all the comments on facebook and my blog. You have all year to get ready for the next one! LOL
Support Camp Kemo
Be sure to be at Fat Harold's Beach Club on Sunday April 6th. TWO Big Events happening on this the first Sunday of SOS Spring Safari. The annual Ron and Tiny Shooter Party with Johnny B starts at 12pm in the back room at Harold's. The Camp Kemo Fundraiser starts at 1PM. It takes $500 to send a kid to camp and if you have ever experienced the pictures and stories from the people involved, you know it is a wonderful feeling to support this cause.
Many of the best bands in the business will be playing at Fat Harold's during SOS. Be sure to catch all the shows at the home of the Fat Man. See the rest of the sos schedule at Fat Harold's
Who is going Fishing with Bo?
Plan to be at the World Famous Spanish Galleon on April 11th for the Drawing and Final Party of the Shakers 35th Anniversary events. Who is going to win the fishin' trip with Bo Schronce? Big Party with special guests, Norfleet Jones, Cooter Douglas and more. Don't Miss it! It's going to be another HUGE celebration with the Fantastic Shakers. There will be special tickets sold to get in early and get a seat and some food. Shakers 35 Sponsors and VIP ticket holders get in early at 4:30 for the meet and greet. SOS card holders will be allowed free entry at 5:30.
Join Today!
I have saved and made money using the free membership I received from a friend of mine and really glad I signed up for the membership card.I have used my membership to get benefits at Applebee's, Outback, BP Gas, Bonefish Grille, CVS, Vistaprint, Subway, Express and several other merchants that offer products and services that I would have purchased anyway. Click the image above and join for free. I will be happy to show you why this is ONE membership rewards card that you will want to have in the coming months.. and years!