The Surf Countdown features songs rated by Surf Listeners each and every week at surfcountdown.com. Listeners from all over the world tune in to hear the show broadcast live from the studio located in Ocean Drive North Myrtle Beach, SC. Songs for chart consideration are listed based on feedback from our DJs and forms at the website.
It was 4 years ago on January 5th, 2019 that Mike Worley and I started working together to bring a weekly countdown show back to the Surf.  Mike hosted the show from 2019 to the end of 2021.
I can't believe we are entering our 5th year of the Countdown show. It has been an honor working with the Surf to put this chart together.
Jay Kinlaw – Host of the Surf Countdown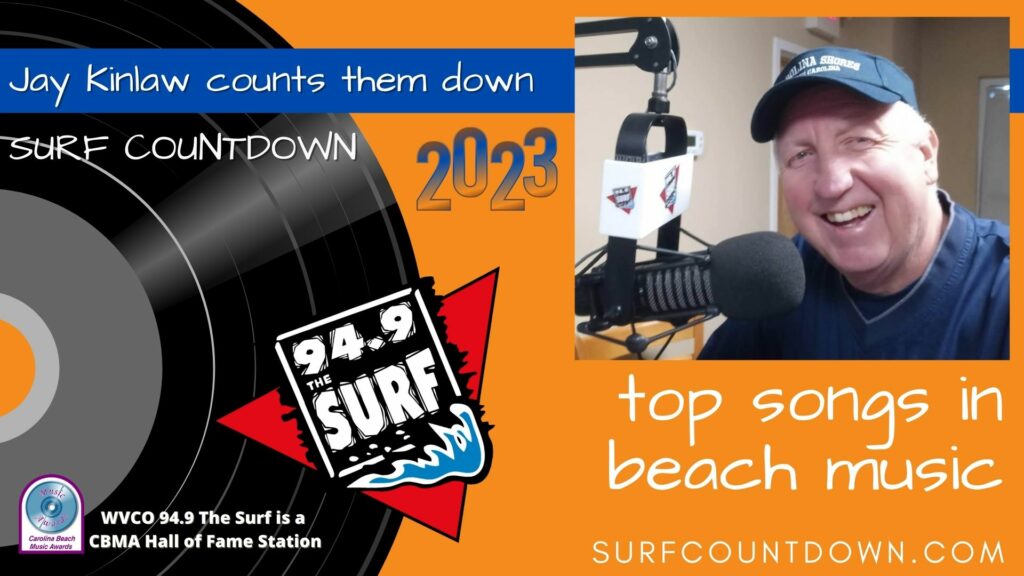 Beginning January of 2022, my buddy, Jay Kinlaw, started hosting the show.  Jay counts down the Top Songs in Beach Music On Saturday mornings at 10am EST at 94.9FM in the Grand Strand and 949thesurf.com all over the world. You can find the latest chart posted at SurfCountdown.com.
In 2022, we won the CBMA for Best Radio Show. We are grateful to everyone who voted for our show. We receive a lot of questions and requests about how to hear some of the songs that were first played on the show. I put together this playlist to highlight some of the newer songs you may have heard for the first time while listening to the show. This list will grow by the week as the month progresses. Every month, I intend to publish a new list.
Songs Added Recently Added for Consideration
January 2023
"So Easy" – Keb' Mo'
"Soul Days"  – Bruce Springsteen  and Sam Moore
"Broke" – Teddy Swims – feat. Thomas Rhett
"Stand by Me" – Larry Chance and Billy Vera
"In My '64" – Rev. Bubba D. Liverance & the Cornhole Prophets
"Pinch Myself" – Nelson Curry
"Falling" – Autumn Tyde
"Too Late" – Lonne G
"Don't Play that Song" – Bruce Springsteen  and Sam Moore
"Skippin' School" – Jeremiah Johnson
"Got It Right ( The First Time)" – Rick Strickland and Lesa Hudson
"Don't be Cruel" – The Mavericks
"Got to Get You Off My Mind" – Paul Carrack
"Dance with Me" – Niko Moon
These songs are featured in the playlist below.
Got Feedback on the Surf Countdown?
Let me know what  you think.